Miner´s Trail
A hiking tour on the Miner's Trail is of magnificient uniqueness. A landscape of natural beauty mixed with alpine pines between soaring mountains and further endemic high alpine plants is waiting for you. During summer only
sheeps and their shepards are living in this lonely but wonderful alpine area. But it wasn't always that kind of a quiet place. 350 years ago mine workers faced harsh conditions in this high altitude. Up to 450 miners were searching for copper, galenite and pyrite in this remote area. Discover more about this unique landscape, the mysterious Pochersee and the people who have tried to cultivate this region since centuries.
The Miner´s Trail combines all these impressions and experiences. Discover 8 different routes for walkers and passionate hikers, ranging from 2 to 6 hours. Even children are likely to have no problem with the shorter distances.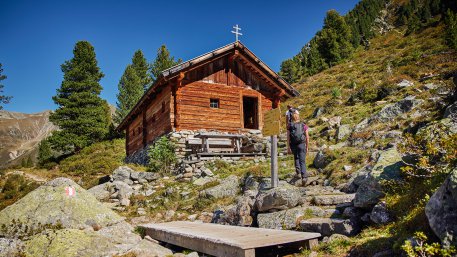 All roads lead to the Minor´s Trail
The Miner´s Trail from Hochoetz to Kühtai is a circular hiking trail at an average altitude of 2,000 m with several stations. You should first take a look at the individual routes in order to be able to estimate the length and the degree of difficulty of your tour.
The entry points are easily accessible by car or bus.
The hike can be started at any point, and with the overview maps provided by us you will surely find your way back.
Further information can be found in Miner's Trail brochure, available at the DreiSeenBahn ticket office, Tel. +43 5239 / 52 29-40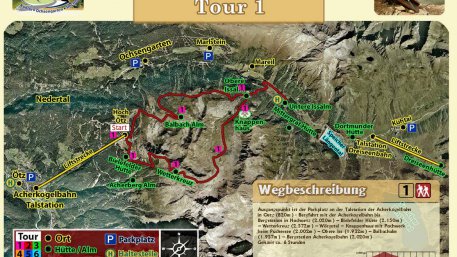 Tour 1
The starting point is the parking lot at the valley station of the Acherkogelbahn in Oetz (820m) – ascent with the Acherkogelbahn to the mountain station in Hochoetz (2.020m) – Bielefelder Hütte (2.150m) – Wetterkreuz (2.572m) – Wörgetal – Knappenhaus with Pochwerk at the Pochersee (2.002 m) – Obere Iss (1.932m) – Balbachalm (1.957m) – mountain station Acherkogelbahn (2.020m)
Walking time approx. 6 hours
Directions tour 1 download —>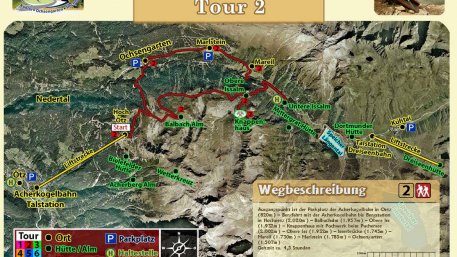 tour 2
The starting point is the parking lot of the Acherkogel lift in Oetz (820m) – ascent with the Acherkogel lift to the mountain station in Hochoetz (2,020m) – Balbachalm (1,957m) – Obere Iss (1,932m) – Knappenhaus with Pochwerk at the Pochersee (2,002m) – Obere Iss (1.932m) – Isserbrücke (1.745m) – Mareil (1.730m) – Marlstein (1.785m) – Ochsengarten (1.507m)
Walking time approx. 4.5 hours
Directions tour 2 download —>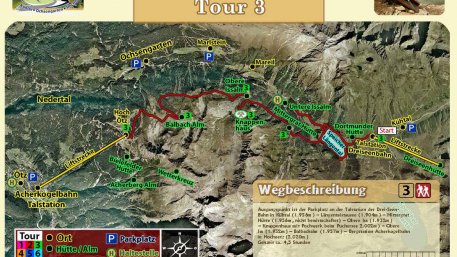 Tour 3
The starting point is the car park at the valley station of the DreiSeenBahn in Kühtai (1.956m) – Längentalstausee (1.904m) – Mittergrat hut (1.956m, not managed) – Obere Iss (1.932m) – Knappenhaus with Pochwerk at the Pochersee 2.002m) – Obere Iss (1.932m) – Balbachalm (1.957m) – mountain station Acherkogelbahn in Hochoetz (2.020m)
Walking time approx. 4.5 hours
Directions tour 3 download —>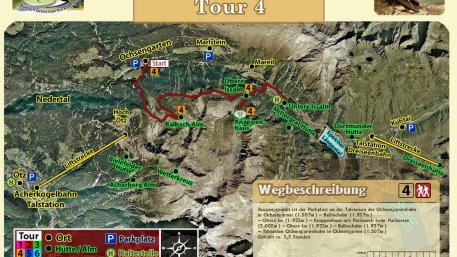 Tour 4
The starting point is the car park at the bottom station of the Ochsengartenbahn in Ochsengarten (1,507m) – Balbachalm (1,957m) – Obere Iss (1,932m) – Knappenhaus with Pochwerk at the Pochersee (2,002m) – Obere Iss (1,932m) – Balbachalm (1,957m ) – Ochsengartenbahn valley station in Ochsengarten (1.507m)
Walking time about 5.5 hours
Directions tour 4 download —>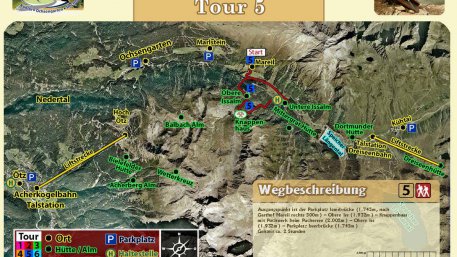 Tour 5
The starting point is the parking lot Isserbrücke (1.745m, after Gasthof Mareil right 500m) – Obere Iss (1.932m) – Knappenhaus with Pochwerk at the Pochersee (2.002m) – Obere Iss (1.932m) – Parking Isserbrücke (1.745m)
Walking time approx. 2 hours
Directions tour 5 download —>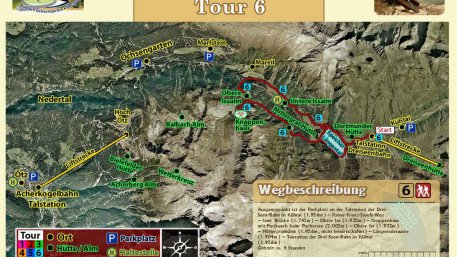 Tour 6
The starting point is the car park at the valley station of the DreiSeenBahn (1,956m) – Kaiser-Franz-Josef-Weg – Isser Bridge (1,745m) – Obere Iss (1,932m) – Knappenhaus with Pochwerk at the Pochersee (2,002m) – Obere Iss (1,932m) – Mittergrathütten (1,956m, not managed) – Längental reservoir (1,904m) – valley station DreiSeen-Bahn (1,956m). Walking time approx. 4 h.
Directions tour 6 download —>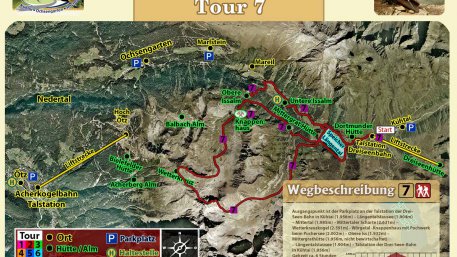 Tour 7
The starting point is the car park at the valley station of the DreiSeenBahn in Kühtai (1.956m) – Längental reservoir (1.904m) – Mittertal (1.985m) – Wörgetal saddle (2.572m) – Wörgetal – Knappenhaus with Pochwerk at the Pochersee (2.002m) – Obere Iss ( 1.932m) – Mittergrathütte (1.956m, not managed) – Längentalstausee (1.904m) – valley station of the DreiSeenBahn in Kühtai (1.956m)
Walking time approx. 6 hours
Directions tour 7 download —>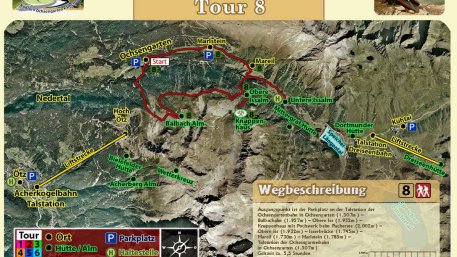 Tour 8
The starting point is the car park at the bottom station of the Ochsengartenbahn in Ochsengarten (1,507m) – Balbachalm (1,957m) – Obere Iss (1,932m) – Knappenhaus with Pochwerk at the Pochersee (2,002m) – Obere Iss (1,932m) – Isserbrücke (1,745m ) – Mareil (1.730m) – Marlstein (1.785m) – valley station of the Ochsengartenbahn in Ochsengarten (1.507m)
Walking time about 5.5 hours
Directions tour 8 download —>